You can count on our expertly trained septic engineers to handle your drain field design project in Lutz, FL.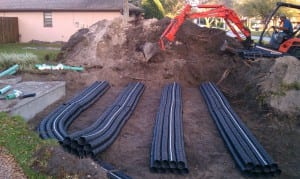 One of the most important components in ensuring that your septic system works properly is drain field design. The drain field is one of two main parts of the system; the second is the septic tank. The septic tank is where wastewater goes after it leaves your building and where the first stage of processing occurs. Solid waste is separated from water, and the water then flows into the drain field.
The drain field is where the wastewater is filtered for a second time, often with the help of certain chemicals, before being released back into the environment. Proper drain field design is essential to making sure that the water flows correctly through the system and ensuring that the drain field is long enough to give the water time to filter. There are three main factors that go into drain field design:
Size—The size of the septic tank and drain field will be determined by the size of the property (and number of bathrooms).
Location—The drain field must be installed at the proper elevation so water will flow properly from the tank.
Soil—Certain soil conditions are needed to enable proper filtration of water.
Because the drain field is such an essential part of any septic system, it is imperative that it be designed and installed correctly. If you find yourself in need of custom drain field design services in Lutz, FL, you can't do better than Southern Water and Soil. We are experts in the septic industry and have trained engineers on hand to tackle your project. Just give us a call for a free quote or to schedule an appointment.
---
At Southern Water and Soil, we offer drain field design services in Brooksville, Dade City, Fort Myers, Land O' Lakes, Lutz, Miami, Odessa, Orlando, Plant City, Wesley Chapel, Spring Hill, and Tampa, Florida.