We are a full-service commercial septic company that you can count on for professionalism, reliability, and quality.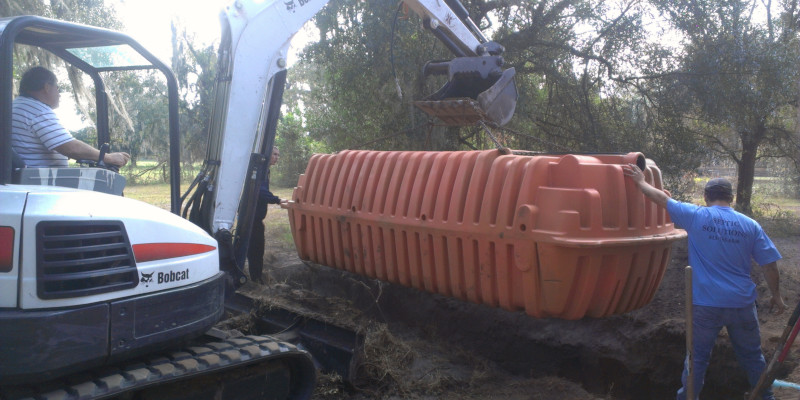 At Southern Water and Soil, we understand that when you need a commercial septic company for your Dade City, Florida business, you need to know they have experience with the complex nature of a commercial septic system. Let us put your mind at rest as we have more than 30 years of combined experience providing septic solutions for commercial applications.
Our experience includes designing a septic system for any size business. We take the time to learn what your needs are, the size and scope of your business operation, plans for the future, and any other relevant facts that will assist us in designing the best possible septic system for your needs. As a commercial septic company, we are responsible for the permitting process and will handle that in an expeditious and reliable manner so your project stays on schedule.
When all the designing and permitting are concluded, the site prep work has been done, and your building site is ready for the septic system installation, we'll handle it professionally and accurately so you can enjoy a fully functioning, efficient system for many years to come.
As a full-service commercial septic company, we can also handle replacing a full septic system or any component that has failed. We also provide septic system maintenance and repair services to prevent future problems from unfolding due to insufficient care. We also do commercial real estate septic inspections, so be sure to call us while you are the due diligence period to be sure your purchase doesn't come with unforeseen problems.
If you have any questions we can answer as the preferred commercial septic company in the area, don't hesitate to reach out to us.
---
At Southern Water and Soil, our commercial septic company proudly serves Brooksville, Dade City, Fort Myers, Land O' Lakes, Lutz, Miami, Odessa, Orlando, Plant City, Wesley Chapel, Spring Hill, and Tampa, Florida.