We handle all of your drain field design needs in Land O' Lakes, from determining the right size to creating the perfect trench line.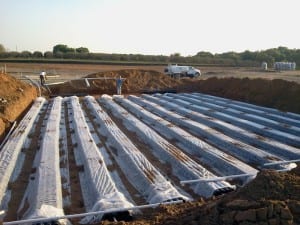 If you are installing a new septic system, you will need to install a new septic drain field. You can't just randomly install a drain field, though. You need to design it first. This is more advanced than you might think. If you let our team at Southern Water and Soil take the lead, we can handle every aspect of designing your septic drain field, from determining the size down to choosing the trench line.
Let's look at some of the different design components, so you can understand why a properly designed drain field is so important. Then, you will see why we are the company of choice for drain field design.
When it comes to designing a drain field in Land O' Lakes, Florida, the size is very important. We start by determining the soil percolation rate. If you own a three-bedroom home on a lot with a good percolation rate, you likely need a drain field that's about 4,500 square feet. On the other hand, if your percolation rate is poor, you might need double that. We will test your percolation rate so your drain field can accommodate your needs. Otherwise, your drain field will back up at inopportune times, and we will have to come out and fix it. This is one of the most important drain field design elements.
We also put a lot of our focus into designing a proper trench line. While we typically use perforated pipes that we bury in a trench that's filled with gravel, we have to access the area to make sure that is the best option. We also need to decide if the drain field pipe hole should be up or down, and we need to determine the trench piping slope specifications. Everything must be done perfectly, which is why we take our time during the drain field design process.
These are just two of the factors we assess when designing a septic drain field. Contact us today so we can take over the project. That way, you can have peace of mind and a properly functioning drain field.
---
At Southern Water and Soil, we offer drain field design services in Brooksville, Dade City, Fort Myers, Land O' Lakes, Lutz, Miami, Odessa, Orlando, Plant City, Wesley Chapel, Spring Hill, and Tampa, Florida.