Southern Water and Soil, Inc., provides innovative and cost effective septic system design, engineering, installation, and maintenance for mobile home park owners and managers. Allow SWS to provide you with complete solutions from A to Z. SWS provides MHP's with a complete circle of services. Please allow us to work on your septic or wastewater project today!
Mobile Home Park Case Studies:
9,000 GPD Mobile Home Park Septic System in Tampa, Florida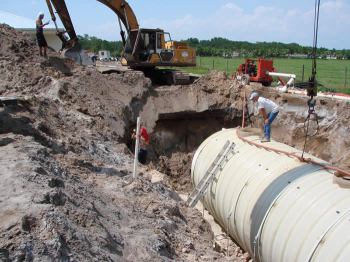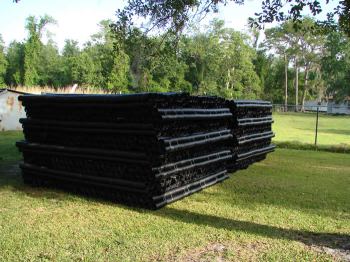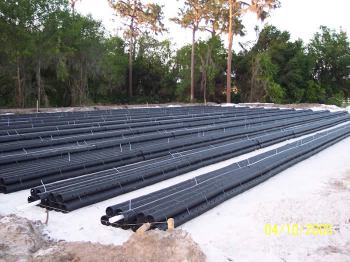 "I don't want a mound." "I don't want it to take up the entire park." " I don't want to lose the trees that are in the park."
Perhaps disguising or relocating the system can achieve your goals. Drip irrigation is another possibility. Drip irrigation can decrease the footprint of your septic or wastewater disposal system by as much as 70%.
SWS has vast experience with drip irrigation systems in Florida. SWS promotes the use of Geoflow drip irrigation systems. Geoflow pressure compensating drip irrigation systems contain ROOTGUARD® and Ultra–Fresh®. These patented technologies completely solve root intrusion and biological plugging problems for subsurface drip applications.
In Florida, drip irrigation can be used after secondary treatment of wastewater. It is a beneficial reuse of water protecting Florida's precious water sources by returning water to the water cycle near its point of use.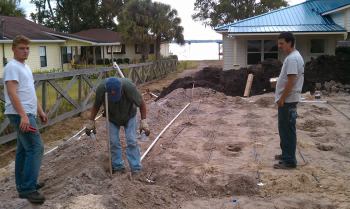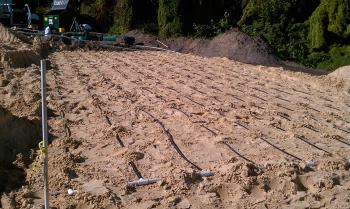 "I have been told that I need an engineered designed system with low pressure dosing… what does that mean?"
A low pressure dosing system in Florida has to be designed according to 64E-6 Florida Administrative Code and meet requirements described by the EPA onsite manual. The system has to be designed by a professional engineer that has experience with onsite wastewater systems.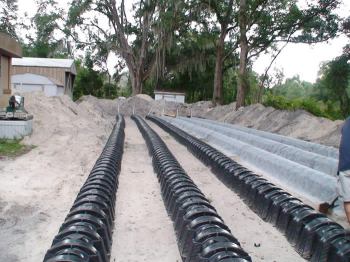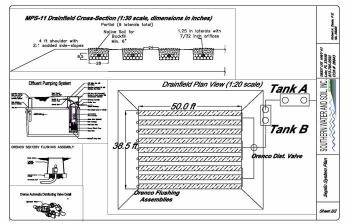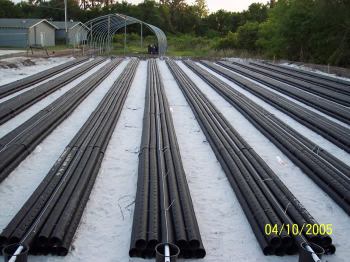 "My septic system seems to be sluggish and slow. Does it need to be replaced? If so, is there any way I can save my landscaping?"
If your drainfield is in failure it cannot take the amount of water or the organic load that is being produced.  Time dosing your drainfield with SWS's effluent pumping system can rejuvenate your drainfield without the cost of destroying your landscape or replacing your drainfield. Time dosing allows large volumes of water (i.e., laundry, bathing, dishes, etc.) used to be dosed throughout the entire day instead of at the time of use. Spreading out wastewater dosing can allow more time for your drainfield to recover.
The reduction of organic loads to the drainfield is another alternative to replacing your drainfield. SWS can design a treatment system than can reduce organic loading of the drainfield. By reducing the organic loading the infiltrative surfaces inside of your disposal system can be cleaned naturally and the system can continue to function, without the destruction of your landscaping.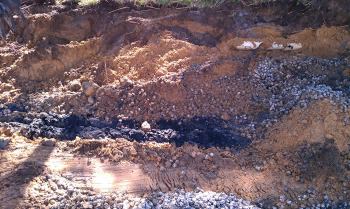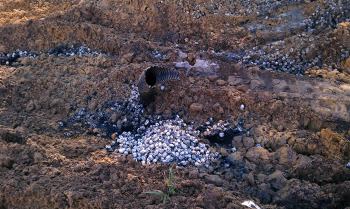 SEPTIC SYSTEM DRAINFIELD — BIOMAT FORMED UNDERNEATH THE DRAINFIELD PRODUCT — ORGANIC LOADING
"I heard that septic systems are required to have effluent filters. Is there a difference between filters?"
Yes, there is a difference between filters. There are two factors that you have to consider when choosing an effluent filter: Surface Area and Flow Area. The Surface Area is where the particulates are caught and the Flow Area is the amount of openings that are in the filter allowing the effluent to pass. A large surface area is great, however, if there is nowhere for the effluent to flow then it requires more maintenance. So, flow area is just as important as surface area. SWS can help you determine the correct filter for your application ensuring a filter that peforms without frequent maintenance.
Serving Lutz-Tampa, Brandon-Valrico, Zephyrhills-Dade City and all of the Tampa Bay Area with Septic and Wastewater System Services. Serving all of Florida with Septic System Engineering Services.
19007 US Hwy 41; Lutz, FL 33541* 3433 Lithia Pinecrest Road, Valrico, FL 33596 Phone 813-785-0500 * Fax 813-315-7444
Text is ©Copyright Reserved by Southern Water and Soil, Inc.