Commercial septic systems can be very large and complicated, but with Southern Water and Soil's 100+ years of combined experience, they'll make the installation of a new septic system as quick and cost-effective as possible.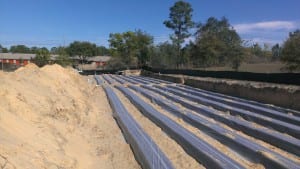 Although Southern Water and Soil has installed a countless number of residential septic systems, they are also highly sought after in the Greater Tampa Bay area for commercial septic system installation, repair, and maintenance.
Serving as the backbone of our nation, the septic system is the last thing small business owners should have to worry about. From Lutz, Plant City and Zephyrhills, to Brandon, Dade City, and Odessa—and even in North Carolina—the trusted Southern Water and Soil team led by Greg Mayfield will provide your company with an innovative wastewater treatment solution that lasts. Check out some of their previous commercial installation projects:
Mobile Home Park
Southern Water and Soil installed a septic system for a 96 unit mobile home park in North Carolina. They utilized an Advantex AX-Max system, a great solution for small communities as it requires little electricity to operate and low maintenance.
Church Septic System and Drain field
Southern Water and Soil installed a septic system for a church in Temple Terrace that featured an Infiltrator Systems plastic chamber drain field. The drain field was a very cost-effective solution for the church since the plastic product is lightweight, can be delivered in just one truckload, requires a small team of installers, and does not call for the use of a dump truck or other heavy equipment.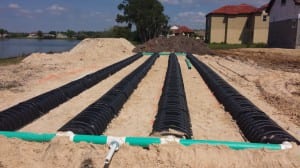 Hair Salon System Solutions
Southern Water and Soil installed an AdvanTex treatment system for Pasco County Hair Salon. This solution was chosen because of the limited space Southern Water and Soil had to work with. In addition, the previous system was beyond repair and failed several times before so it was imperative SWS install only the most advanced and trusted septic system products.
Commercial Retail Center in Tampa
The owner of a property could not fit the building, parking lot, and septic system on their lot. Southern Water and Soil came to the rescue and implemented the design of a PTI Multi Pipe drainfield system to make the lot buildable. The design reduced the footprint of the wastewater system by 33 percent when compared to a conventional septic tank and drain field system.
Carpet and Tile Retail Center
Southern Water and Soil installed an AdvanTex treatment system at a retail center in Ruskin. The design implemented reduced the footprint of the wastewater system by 65 percent when compared to a traditional septic system. In addition, the system installed provided supplemental irrigation to their landscaping.
It's apparent Southern Water and Soil can create a customized wastewater treatment plan that will fit your business' needs and its budget. A conventional septic tank with attached drain field doesn't have to be the only answer to your wastewater treatment problems. SWS is certified to install some of the most advanced septic systems and products on the market today. Whether you have limited space or high water usage, SWS technicians will draft a high quality plan using top-of-the-line products.