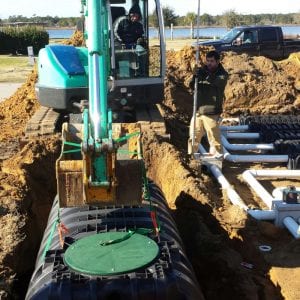 When you have a commercial property, you are responsible not just for the building, but for the utilities and other needs concerning your commercial property! Whether you are in the process of building a property or upgrading the septic system of an existing property, choosing the right commercial septic system design is crucial to maintain the effectiveness of your septic system.
When looking at commercial septic system designs, make sure that you choose a septic contractor with an actual engineer on staff. A qualified engineer can ensure that your septic system is able to work in and around the property that you have without hassle. This means that you will need to have an engineer adjust for issues such as space, existing structures, the grade and level of the land, and other important components in your commercial septic system design.
A few things that your engineer might want to look at adding to your commercial septic system design are pumps, aerators, and drip lines. An aerator can ensure a fresh supply of oxygen to keep the good bacteria in your septic tank happy. Additionally, with the circulating air, the ability of the bacteria to break down the solid waste can actually be accelerated. Pumps can help wastewater be pumped through the system instead of relying on gravity and can help water drain efficiently through drip lines.
If you are looking for a new or improved commercial septic system design, let our qualified engineers here at Southern Water and Soil assist you.