We have more than 30 years of experience as a commercial septic company you can trust for installation, maintenance, and repairs.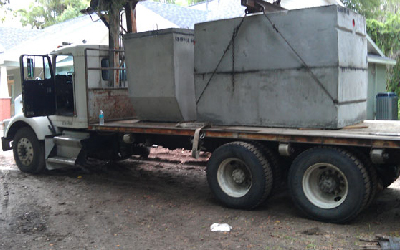 At Southern Water and Soil, we understand that the success of your business in Lutz, Florida can be undermined by a septic system problem. The best way to avoid a disruption that lowers your profits is to have a reliable and experienced commercial septic company handling your septic needs. We bring more than 30 years of experience to the table, so it is safe to say that we can provide the best septic solutions for your company.
If you are just getting started or opening another location, your buildout may require a commercial septic company to install a system for you. We are fully equipped to design and install a septic system that will give you several decades of reliable performance. We handle installations in an organized manner, obtaining all permits needed, and completing the project on time so the next phase of the build is not delayed.
Whether we installed your septic system or another commercial septic company did, you can confidently turn to us for maintenance, minor repairs, or to get answers to any questions you have about proper operation and care of your company's septic system. We can be a valuable resource for keeping your septic tank and drain field operating as they should.
Our commercial septic company is equipped to handle any type of commercial septic system, including package plant installations, aerobic septic systems, performance-based septic systems, and passive nitrogen septic systems. We also perform commercial real estate septic inspections, so if you are purchasing an existing property, have us check it out before you close so any issues can be addressed.
We look forward to being the commercial septic company you turn to for all your septic needs.
---
At Southern Water and Soil, our commercial septic company proudly serves Brooksville, Dade City, Fort Myers, Land O' Lakes, Lutz, Miami, Odessa, Orlando, Plant City, Wesley Chapel, Spring Hill, and Tampa, Florida.