Don't settle for less than a highly qualified commercial septic company.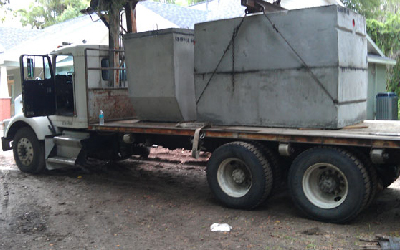 At Southern Water and Soil, we recognize that as a business owner or commercial property owner, you have a lot at stake when it comes to the performance of the septic system. You need to have confidence in the commercial septic company you use for a new septic system, or to repair or replace your current one. With 30 years of combined experience in the septic industry, we are a trusted commercial septic company serving the Land O' Lakes, Florida area.
For new construction and replacement, you can count on us to handle everything, including providing septic system engineering services, commercial septic system design, permit application services, and backing the results with our septic system warranty packages. We are adept with drainage systems to ensure you get a long, trouble-free life from your septic system. As a full-service commercial septic company, we can also handle package plant installations, including effluent sewers and cluster wastewater treatment. We are knowledgeable about various types of septic systems, including performance-based septic systems, passive nitrogen septic systems, and aerobic septic systems.
We also perform commercial real estate septic inspections, so if you are planning to purchase an existing commercial property, call us before you close to be sure the septic system is in good shape. If you have any questions about what services we offer as a premier commercial septic company, don't hesitate to reach out to us. We look forward to providing you with superior septic services so that you'll have peace of mind that your company's business operations won't be derailed by a major septic problem.
---
At Southern Water and Soil, our commercial septic company proudly serves Brooksville, Dade City, Fort Myers, Land O' Lakes, Lutz, Miami, Odessa, Orlando, Plant City, Wesley Chapel, Spring Hill, and Tampa, Florida.