For a drain field to work properly, the drain field installation must be done with care and attention to detail.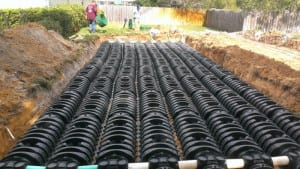 Unless you are on the municipal sewer system, your Land O' Lakes, Florida business is required to have a septic tank and drain field installation that meets code requirements for safe and effective wastewater treatment. Even if it weren't a requirement, you wouldn't want the soil and groundwater of your property to be contaminated. At Southern Water and Soil, we will perform your drain field installation to meet or exceed code regulations, keeping in mind your current and future needs so the right size and type of system is installed.
Whether you need drain field installation for new construction, to upgrade a system to accommodate the building of a larger facility or expansion of a building, or to replace a worn-out or damaged drain field, you can count on our dedication to excellence to provide the best possible results. Our highly cross-trained team puts your needs first, so your drain field installation project goes smoothly and matches the initial design.
When you call on us to discuss drain field installation, we take the time to assess your situation and answer all questions you may have. Our goal is to make you a well-informed customer, so we are confident you know what to expect from day one to the completion of your project. By providing you with ample education about how these systems work, we ensure you know how to properly care for your drain field and can avoid drain field installation again in the near future because of a preventable situation. Contact us today to schedule a consultation to discuss your project.
---
At Southern Water and Soil, we offer drain field installation services in Brooksville, Dade City, Fort Myers, Land O' Lakes, Lutz, Miami, Odessa, Orlando, Plant City, Wesley Chapel, Spring Hill, and Tampa, Florida.