We are proud to offer the Orenco AdvanTex AX-Max system to residential and commercial locations in Odessa, FL.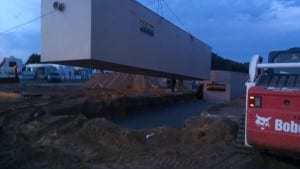 Featuring a modular, fully plumbed treatment plan that is capable of handling flows up to 1 MGD, our team at Southern Water and Soil is proud to offer the Orenco AdvanTex AX-Max system. Thanks to its impressive capabilities, not only is this wastewater collection and treatment system an ideal solution for residential communities, but it is also often a beneficial fit for commercial locations.
One of the key features of the Orenco AdvanTex AX-Max system is its proven technology. For thousands all over the world, this system has become the system of choice because of its reliable packed bed media filter. As a result of this technology, systems like these can meet strict nutrient limits or re-use standards. Communities in Odessa, Florida can also defer the majority of the building costs associated with using one of these systems until revenue and unit flow are generated due to their modular design.
If you are interested in using an Orenco AdvanTex AX-Max system, please keep in mind that these systems can either be built below or above ground. These systems, which feature a lightweight, durable fiberglass tank, can also be installed singly or using multi-tank arrays.
At Southern Water and Soil, our team is always ready and waiting to discuss the needs of your project. For more information about the Orenco AdvanTex AX-Max System, how it works, and if it is the right fit for your community, please contact us today.
---
At Southern Water and Soil, we install Orenco AdvanTex AX-Max systems in Brooksville, Dade City, Fort Myers, Land O' Lakes, Lutz, Miami, Odessa, Orlando, Plant City, Spring Hill, and Tampa, Florida.