Effluent sewers are often a good choice for the wastewater collection and treatment needs of small communities and new subdivisions in Dade City, FL.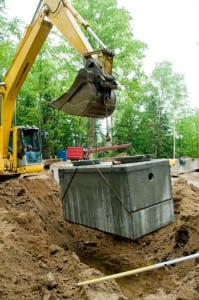 Hundreds of communities throughout Dade City, Florida and America successfully collect and treat wastewater with an effluent sewer system. At Southern Water and Soil, we recognize that effluent sewers are becoming recognized as the best solution for small to mid-sized communities, environmentally sensitive locations, and new subdivisions in terms of wastewater collection and treatment because they cost much less than conventional gravity sewers. Additionally, when effluent sewers are properly designed, the effluent produced can be re-used for irrigation purposes, and they are extremely easy to maintain.
We are proud of our ability to design and install effluent sewer systems, and we only use equipment that is resistant to corrosion, lightweight, fully warrantied, and superbly engineered. If you decide that an effluent sewer is the right option for your community, you can pick from a pump collection system, often referred to as a STEP system, or a gravity collection system.
Our effluent sewer system packages can also be complemented with our innovative monitoring system. This affordable, web-based remote telemetry system allows you to keep tabs on the overall function of your effluent sewer system to prevent extensive repairs and emergency situations.
When our team designs and installs effluent sewers, we make sure that all permitting is properly handled. Right now, all of the collection and treatment systems we design and install are permitted through the Florida Department of Health and the Florida Department of Environmental Protection.
If you have any questions about effluent sewers, how they operate, and why one of these systems might be a good fit for your community, please reach out to us at Southern Water and Soil. We guarantee that we will help you make the right choice for your location's wastewater collection and treatment needs and ensure that all phases of the installation process are completed according to your utmost satisfaction.
---
At Southern Water and Soil, we offer services for effluent sewers in Brooksville, Dade City, Fort Myers, Land O' Lakes, Lutz, Miami, Odessa, Orlando, Plant City, Spring Hill, and Tampa, Florida.