We design fully functional septic systems for commercial properties.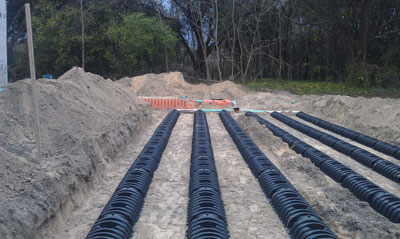 Commercial septic systems are much more complex than residential ones. They must also deal with a larger volume of wastewater on a daily basis, which impacts their basic design and structure. For most commercial properties, careful and diligent commercial septic system design is needed to ensure the functionality and longevity of the new septic system.
At Southern Water and Soil, our commercial septic system design team can help you plan and lay out your septic system according to the requirements of your facility and the requirements of your particular building site. We have designed septic systems for many businesses and operations throughout Florida, including for schools, shopping centers, hospitals, and other similar establishments.
There are many factors we will take into account when designing your septic system. For example, we will assess the expected wastewater flow rate, the size of the establishment, the number of occupants, and local regulations and codes. We will also consider the site's topography and soil. The commercial septic system design process may involve conducting a wastewater analysis, sizing the tank, designing the drain field, identifying the best possible pumping systems, and ensuring the design meets local and state regulations for wastewater disposal.
We have over 30 years of experience with commercial septic system design, and we are here to exceed your expectations. For more information about our commercial septic system design process, get in touch with us today.
---
At Southern Water and Soil, we offer commercial septic system design services in Brooksville, Dade City, Fort Myers, Land O' Lakes, Lutz, Miami, Odessa, Orlando, Plant City, Wesley Chapel, Spring Hill, and Tampa, Florida.