Let our experts get you the right commercial septic system design for your property.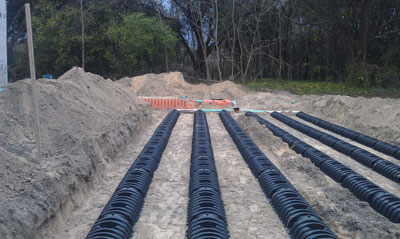 When you need a septic system for your property, you have a plethora of companies to choose from and other choices to make. Choosing a commercial septic system design can be tricky because not every septic company has the skills or capabilities to create septic system that will meet the needs of various commercial properties. Here at Southern Water and Soil, we want to help you with your commercial septic system needs in the Dade City, Florida area, starting with finding you the right design.
We offer a variety of features to ensure your commercial property can get the best in design for your septic system. We offer everything from lift pumps that can aid in the transportation of materials on sloped properties to options that are performance-based. With additional features that include aerobic treatment units, low-pressure dosing systems, advanced treatment systems, and secondary treatment systems, you will have the right blend of components to create the ideal commercial septic system design for your property.
When you are looking for the best in commercial septic system design, you need our team of experts working with you. We take care of the permitting, installation, engineering, and design for your commercial property, leaving you to sit back and enjoy the efficient progress we are making on your behalf. We offer a variety of discounts that you might be interested in, including discounts for teachers, military members, and seniors. If you have questions about our commercial septic system design, we are here to help. For more information about the variety of services we offer for commercial properties like yours, please give us a call today.
---
At Southern Water and Soil, we offer commercial septic system design services in Brooksville, Dade City, Fort Myers, Land O' Lakes, Lutz, Miami, Odessa, Orlando, Plant City, Wesley Chapel, Spring Hill, and Tampa, Florida.