Our team of experts is ready and waiting to install top-notch aerobic septic systems on residential and commercial Odessa, FL properties.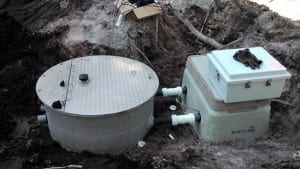 At Southern Water and Soil, we offer a wide variety of septic services, including custom septic tank design and septic system design. Our team includes a variety of industry professionals, such as engineers, licensed contractors, and sanitation specialists. Plus, all of our staff members are cross-trained to ensure that everyone who works on your project is qualified to do so.
One of our most popular septic system designs in Odessa, FL is the aerobic septic system. Aerobic septic systems are perfect for both residential and commercial applications because they are self-contained and can be designed for either large or small volumes of waste.
Most aerobic septic systems contain a pretreatment chamber through which the waste and water flow. This chamber contains several types of bacteria that treat the waste, starting the process of separation. The waste then moves into the aeration chamber, where different types of bacteria treat the water, removing all traces of waste. From there, the water flows into the drain field for filtration, disinfection, and chlorination before being released back into the environment.
If you are considering having an aerobic septic system installed in Odessa, FL, be sure to make Southern Water and Soil your first call. We have a team of experts standing by to take your call and will be happy to answer your questions and offer you a free quote. Not only will we install your new septic system; we will also remain available for routine maintenance and repairs.
---
At Southern Water and Soil, we install aerobic septic systems in Tampa, Odessa, Lutz, Land O' Lakes, Brandon, Orlando, Plant City, Dade City, Bartow, Lake Wales, and Lakeland, Florida.