Looking to install a septic system that works well for your property?
Let us help!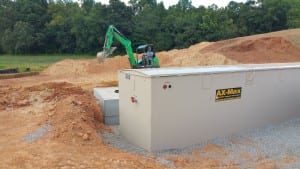 At Southern Water and Soil, we offer a wide scope of septic services for developments. With over 30 years of experience in the business and many large-scale projects under our belts, our knowledge and credentials can simplify the wastewater treatment aspects of your project.
We realize that not every building site is easily developed. Our knowledge of various codes and our use of up-to-date technology allow us to design, install, and maintain septic systems for lots on which others might not be able to do so.
At Southern Water and Soil, we have over three decades of experience performing package plant installations in Tampa, Florida and are committed to your complete satisfaction.
✔ We are fully licensed, bonded, and insured.
✔ We provide accurate proposals and quotes that take into account a wide range of factors, such as the material costs, the type of system being installed, and the cost of installation.
✔ We make sure that all of the septic systems we design and install meet the requirements dictated by local authorities in the area.
✔ We always educate our clients on different system components and how ours positively differ in quality.
✔ We have partnered with several top-of-the-line manufacturers, like Orenco.
Call (813) 785-0500 or fill out our form to send an inquiry.