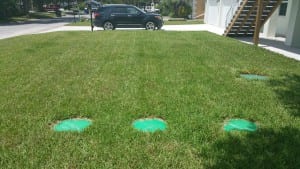 Drip irrigation systems are some of the simplest yet most effective methods of water delivery for residential and commercial landscaping. If you are thinking about having a drip irrigation system installed outside your home or business, make our team at Southern Water and Soil your first call.
If you are tired of spending hours each week watering your flowers, shrubs, and plants by hand, then a drip irrigation system installation may be just what you need. Drip irrigation systems make the work of keeping your landscaping in prime condition quick and easy—all you have to do is turn on the water supply. These systems can be installed quickly and are highly flexible and usable for container gardens, as well as raised beds, shrubbery, flower beds, and more. Our systems can also be adjusted as your landscaping grows and changes.
A drip irrigation system consists of a water line connected to multiple emitters, which discharge the water from your hose spigot directly into your landscaping where you need it most. Having your Tampa, Florida drip irrigation system installed by our team at Southern Water and Soil ensures that your system will be customized perfectly to suit your landscaping design. Best of all, the system components can be concealed within your landscaping, so all your guests or customers see is your beautiful landscaping design.
To have a drip irrigation system installed in your residential or commercial landscaping, contact us at Southern Water and Soil. We offer free quotes on drip irrigation system installation, with flexible weekday hours to fit your schedule. Simply give us a call, and before you know it, we will have one of our experts answering all of your questions about drip irrigation system installation.